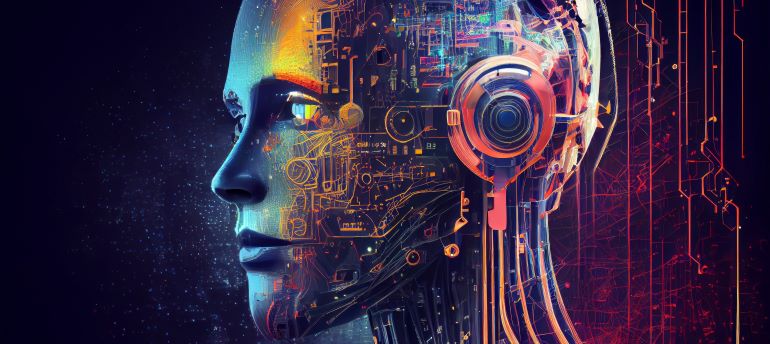 The accelerated mainstreaming of generative AI, fueled by the public introduction of OpenAI's ChatGPT chatbot in late November 2022, has given consumers an unprecedented opportunity to try out the new technology and experience its rapid introduction into their everyday lives.
Generative AI is seemingly everywhere. Microsoft is championing ChatGPT and similar tools throughout its product portfolio, Google (with Bard), Meta (Llama), and other tech companies are rolling out their own offerings, and companies are leveraging it for everything from commerce to education to health care.
The technology is constantly in the headlines, with media outlets laying out the pros of generative AI to the cons.
Individuals are surrounded by it and are trying to figure out how they feel about it. According to the numbers from a recent survey by human feedback platform provider UserTesting, they're still trying to sort everything out.
Lija Hogan, principal of experience research strategy at UserTesting, looks at the survey results and sees a population that is "cautiously optimistic."
"People are hearing a lot about AI in the press," Hogan told Techstrong.ai. "They are also using it themselves when they're trying out some of the popular generative AI applications that are available. What they seem to understand less is how AI is used to drive many of the digital experiences and products we use every day, from picking what to watch next when streaming to what ads we see when we're shopping."
UserTesting, which has 3,400 customers – including 75 of the Fortune 100 – and more than 1,000 employees, commissioned a study conducted by market research firm OnePoll, which surveyed 2,000 Americans. What the survey revealed was a population that is still early in the learning curve, finding out about the potential of AI to impact their lives but still unsure about how much of that change will be positive or negative.
Knowledge is Wide But Not Deep
For example, 86% said they know what AI is, but only 46% know what it does. Half of those surveyed said they are unsure about the capabilities of AI and 58% said they trust AI, though seven out of 10 are concerned that their privacy may be at risk with the technology.
That echoes some of the larger concerns of many organizations and developers, who worry that using ChatGPT in their businesses may lead to inadvertent leaks of sensitive corporate or personal data.
"Generative AI is quite new to people," Hogan said. "Because the news cycle moves so fast, it's easy to forget that we've had less than a year to get used to some revolutionary developments in how effectively LLMs [large language models] and other generative AI work."
She added that "most people tend to be cautious in the face of novelty, and for good reason. They want to be sure those new products are trustworthy and credible before they risk their privacy and security. History tells us that it can take years or even decades for the implications of new technology adoption to become clear."
Privacy vs. Shopping
Yet those privacy concerns are countered to some extent by how it can help improve their lives, particularly when it comes to how it is impacting their lives now, such as in shopping. About 57% said they encounter AI while shopping online – other times include when they're using their computers (74%) and on their phones (62%).
And the shopping experience with AI is overwhelmingly positive. Almost three-quarters of people – 73% — said AI improves the shopping experience, by saving them time (73%), making shopping more convenient (66%), and creating personalized experiences (62%).
In addition, 65% said AI knows their shopping habits as well or better than those closest to them, with 53% saying the technology knows those habits better than even they do.
As they get closer to Black Friday – November 24 this year – 79% plan to use AI to find the best deals.
So while most of those surveyed said they were worried about their privacy due to AI, 87% said they were likely to provide personal information to brands if it saves them money. And what data are they willing to hand over for a good deal? Their birth date (52%), full name (45%) and that of their spouse or partner (44%), and their email address (38%)
Next in line were their children's names (36%), Social Security numbers (34%), and credit card numbers (34%).
Trust is a Generational Thing
Age also played a role in how the respondents thought about AI. The Gen Z age group was the most trusting of the technology, at 67%, while Baby Boomers were least trusting (29%). The most concerned about privacy – such as not knowing what was being done with their personal data or getting targeted ads – were Millennials (72%) and Boomers (66%).
That said, 73% of Millennials were will to hand over their details, while significantly fewer Gen Z and Baby Boomers were (both at 27%).
Hogan again noted that generative AI is still a relatively new technology to individuals and that attitudes toward it will likely improve if the tech industry develops understandable guardrails that address people's concerns.
"For example, we'll see people understand the benefits of AI if we harness its power to reduce busywork, augment decision-making, or reduce human error, and [they will] develop a more positive opinion," she said. "However, if we don't develop policy or strategies to reduce disruption and harm, we could see negative outcomes that lead to negative perceptions."
Given that, it's important that "we continue to connect with people as we develop new AI capabilities to understand the best way to develop products and experiences that reflect human values and goals," Hogan said.