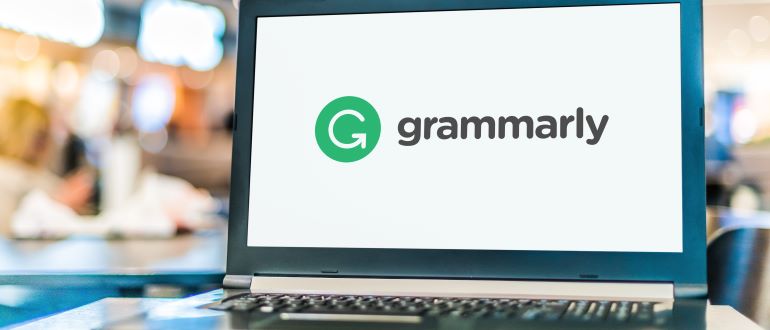 Grammarly, the company best known for its AI-aided writing assistance software, recently expanded its strategy to help power enterprises through the launch of new enterprise AI features in Grammarly Business.
The first iteration of new features, including enterprise-specific capabilities in GrammarlyGO, the company's on-demand communication assistant powered by generative AI, became available in beta for Grammarly Business this June. The enterprise-specific features for GrammarlyGO focus on tailoring text to businesses, taking into account factors like location, user intent and now organizational context.
GrammarlyGO users can have access to features such as incorporating company terms and knowledge, generating on-brand content and providing relevant prompts for specific team use cases, all aimed at enhancing productivity and maintaining a consistent brand experience. 
A feature called Knowledge Share is designed to address the problem of searching for information and documents or trying to decipher jargon and acronyms by giving employees the knowledge they need wherever they are already working. It surfaces helpful information like company term definitions, related links and key contacts right in their workflow.
This helps all employees—regardless of their experience or tenure level—to quickly access information and come into the fold.  
Matt Rosenberg, Grammarly's chief revenue officer and head of Grammarly Business, explains businesses are struggling under the weight of information and application overload, with the amount of global data expected to double in the next three years.
"This creates immense complexity and friction for organizations that stunts their ability to move quickly and grow," he explains. "To compound this issue, we already knew from research with The Harris Poll that ineffective communication is one of the costliest problems facing businesses—up to $1.2 trillion every year in the US alone—and the problem is only getting worse."
He says by incorporating generative AI and expanding the company's enterprise AI features, Grammarly Business helps enterprises address these challenges by making better use of their information.
"By bringing relevant context and insights directly into the flow of work, businesses can eliminate information silos, drive greater alignment, and prioritize more important work," Rosenberg says. "AI can help organizations make their information more usable."
He points out communication is what keeps information moving throughout the organization, and by applying AI to improve how organizations communicate at every stage of the process—from conceiving new information to comprehending information—Grammarly can help enterprises remove silos and move faster.
"So far, generative AI has only contributed to the problem of information overload, with point solutions creating a lot more content, noise, and complexity," he says.
He states when applied purposefully, in a way that accounts for businesses' unique contexts and needs, AI will significantly help employees access, create and understand information. Rosenberg adds the company has always focused on using AI to not only make communication faster but make it better.
"Now we're moving past the editing stage of writing to also help people come up with ideas and create and better understand information," he says. "That opens new possibilities to usher in a truly AI-connected workplace—one that incorporates all of an individual's and organization's unique context, needs, and nuances to augment their capabilities and uplevel how work gets done."
He says the company envisions a future where AI anticipates what employees need to know and brings it right to them, where it recommends the best next steps and actions for them to take, and where it works alongside them to give them back the time and space to be creative.
"This is where we're focused at Grammarly–going beyond words to help enterprises build higher-impact cultures that get smarter work done," he says. "Not just faster, but better."
Heidi Williams, Grammarly Business' head of engineering, adds up until recently, the company's AI-enabled communication assistance focused on supporting the revision phase of writing.
"Implementing generative AI with the addition of GrammarlyGO expands our support across all stages of communication, from brainstorming new ideas to finding clearer ways to express information to comprehension," she explains.
She adds since its release in beta, GrammarlyGO has helped teams compose and rewrite text, generate ideas and reply to emails.
"With our new enterprise-specific capabilities, it now also accounts for company context and knowledge to generate even more tailored, relevant, on-brand content," Williams says. "We'll continue to lean into context and intelligence to provide highly relevant, customized assistance across all phases of communication."