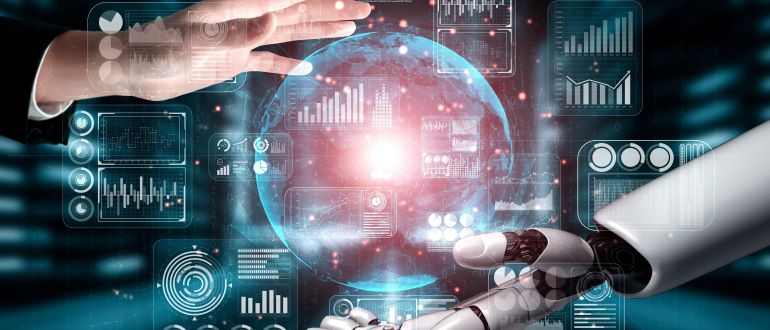 Forrester Research recently released several reports that predict what the research firm's analysts believe the year ahead has in store for AI, automation and data.
It's critical to look at. According to pitchbook data, there was a 425% increase in GenAI startup investment in 2022, and Bloomberg Intelligence forecasts the economic impact of GenAI will grow from $40 billion in 2022 to $1.3 trillion by 2032.
Of course, behind much of that capital is enterprise investment in GenAI. The market research firm IDC expects enterprise investment in GenAI this year to hit $16 billion and reach $143 billion in 2027.
Caleb Sima, former CISO at Robinhood Financial and chair of Cloud Security Alliance AI Safety Initiative, says as enterprises move forward with those GenAI investments, CISOs and other leaders in enterprises should look at GenAI as any other SaaS platform when they're looking at the impact on enterprise data and privacy. "Look at the contracts and what you need to feel safe, and do the same type of third-party risk review that is done with other cloud providers," Sima says.
According to the Forrester Reports Predictions 2024: Artificial Intelligence and Predictions 2024: Data and Analytics, much of the year ahead will still be experimental, with staffers turning to their own "consumer" GenAI services to improve productivity, while enterprises will essentially be laying the groundwork for future GenAI investment with enhanced data management, database investment and the creation of new leadership positions designed to shepherd AI efforts.
Regarding enterprise GenAI platform budgets, Forrester Research expects them to triple. "GenAI has created urgency for enterprises to become AI-first. Data scientists, data engineers, application developers, and business experts need tools to pipeline data, select and compare open-source and commercial models, train/tune/retrain models, deploy models in applications, and monitor and govern them for efficacy and bias," Forrester's analysts write in its analytics prediction report. The firm expects enterprises to begin to use a "hodgepodge" of open source tools but invest into commercial and scalable GenAI platforms over time.
However, it seems staffers are way ahead of enterprise GenAI planning. Forrester expects 60% of workers to use their own AI platforms to conduct tasks. And they'll ignore enterprise security policies when doing so. "Similarly, we expect shadow AI will spread as organizations struggle to keep up with employee demand, introducing rampant regulatory, privacy, and security issues. As businesses scramble to capitalize on the AI opportunity, they won't innovate fast enough to outpace widespread bring-your-own-AI (BYOAI)," Forrester writes.
Walter Haydock, founder and CEO at AI cybersecurity firm StackAware, cautions enterprises not to go down the path many tried and failed when controlling BYOD and consumerizing IT policies. "We learned that outright bans of technologies like this don't work," Haydock says. Haydock advises enterprises to vet available GenAI cloud services against their security and privacy policies and create a portfolio of permitted services.
Next year, the research firm expects enterprise unstructured data (data not organized in a pre-defined model) under management to double. "Global data and analytics decision-makers say only 27% of their organizations' managed data is unstructured. GenAI will double that as companies roll out more conversational experiences for customers and employees. Enterprises will scramble to store, analyze and make sense of this unstructured data. This trend will show up in the data pipeline space, where 80% of new data pipelines built in 2024 will be for ingesting, processing and storing unstructured data," Forrester writes.
Using structured data in vector databases will double to support GenAI efforts. With vector databases, enterprise users find similar or relevant data based on context rather than exact search matches regarding complex images, sound, and video data sets. "With increasing investments in GenAI, organizations will look at vector databases to support similarity searches of text, images, and documents," Forrester writes. Forrester also advises enterprises to, if they haven't already, begin identifying use cases where the ability to compare data similarities may create business value.
Finally, Forrester expects enterprises to begin creating new position titles, notably, chief artificial intelligence officers. According to Forrester, 12% of AI decision-makers in organizations with well-defined AI strategies indicate that their chief intelligence officer is responsible for their organization's comprehensive AI strategy. However, this doesn't mean the end of chief data officers. "Data is still a vital and often unleveraged resource within organizations due to challenges around quality, governance and access. Ensure your AI and data leaders are in lockstep to spin data straw into insights gold," Forrester writes.
While predictions are interesting, especially with an emergent technology such as GenAI, every business will be unique in its approach to this technology. How they integrate and govern their GenAI will determine the future impact it has on their, if any, business growth and productivity increases.