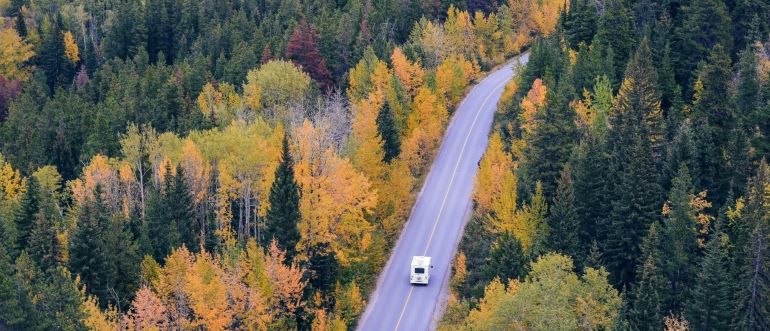 Seeking a spooky destination on Halloween? How about a leaf peeping trek through New England to gawk at the splendid burst of yellow, orange and red fall foliage that paints the region in brilliant hues this time of year? If you let an AI travel planner take care of the details, it might suggest an overnight stay in Salem, Massachusetts, and then a road trip to Acadia National Park in Maine.
AI's proliferation in the workplace has helped workers do their jobs better, and now it is increasingly being applied away from work, to help people plan better vacations. Companies such as Roam Around, AdventureGenie, Curiosio and the Matador Network (with GuideGeek) are offering personalized vacation planning through the integration of AI.
"This is a game-changer," Curiosio CEO Vas Mylko said in an interview with Techstrong.ai. "With the use of AI, we have been able to offer a unique vacation plan, that is personalized to the traveler, so that he or she will have the experience that they dreamed of."
AI travel planners rely heavily on previous customer experience, including hundreds of thousands, up to millions, of reviews and other curated knowledge data. Like most companies in the segment, Curiosio caters to a travelers seeking a unique experience.
AI travel assistants can save travelers numerous hours in the planning phase, and provide options that go way beyond what travelers would find on their own searches. According to a recent global survey by the Expedia Group of more than 5,700 travelers, an average of five hours is spent on researching a trip, including viewing over 14 pages of content (For Americans, its 277 pages). The potential for growth is immense. In another survey, conducted by the National Research Group, a market research firm, 61% of respondents said they would use conversational AI to plan trips, but only 6% said they had actually used it. Many of the travel planners are built off of OpenAI's ChatGPT.
Mylko spoke of his company's ethos, saying, "There is a distinction between the traveler and the tourist. The traveler explores, discovers, understands that there is only one planet, one life and only two scarce resources – time and money, to experience this world. Some people have more money and less time, some more time and less money. We are focused on building the smartest, neutral travel planner for the educated traveler, the affluent traveler, those who understand what time is and how you spend it. You learn something new and return a different person from your vacation," he shared.
By entering price range, geographical area of interest, length of vacation and preferred activities, Curiosio will create, in seconds, a detailed itinerary. For road trips, an interactive route is generated, and by tapping on "Points" or "Places" the traveler will be provided with details of the location, through Wikipedia. Much of their information is from crowdsourcing and "neutral" input derived from the company's own AI capability, Mylko said.
GuideGeek is another AI travel planner. If you are planning to visit Istanbul, Turkey for four days, for example, tell the planner what activities interest you. When put to the test, it returned an itinerary in under a minute, suggesting three activities per day, including a visit to the historic Blue Mosque, the Grand Bazaar to shop,  the 360 Istanbul, a rooftop restaurant with a panoramic view of the city, and for dinner  a traditional Turkish breakfast at Van Kahvalti Evi, the Topkapi Palace, a magnificent complex with centuries of history and beautiful gardens, and a visit to a Turkish bath.  GuideGeek also can generate flight, hotel and ground travel suggestions, and can help the traveler avoid long lines and crowds.
TravelAI, formerly known as Left Travel, utilizes data from millions of previous bookings since 2013, to connect travelers with idea vacation accommodations.
"Our focus was always on, can we use the data that we have to give a better travel experience, to personalize the experience," said John Lyotier, the CEO and founder of TravelAI, in an interview with Techstrong.ai. "We were mirroring Tinder for a while . . .of swiping right if you like a place."
The company has more than 20 "consumer facing" brands that are specific to an experience or activity, or "Micro Segmentation" such as PickleTrip.com, a recent launch born out the popularity of pickleball. The company identified over 20,000 properties with pickleball facilities on the premises. There are other brands that cater to vacationers seeking luxury, family friendly, pet friendly and other specific accommodations. The brand Ferienhaus, (German for 'Holiday Home') boasts an authentic German experience, "Dive into authentic German stays, offering a genuine taste of the country's rich heritage and culture."
On its website, TravelAI.com, the company states, "With every traveler's interaction, our platform gains more depth and understanding. Through more than 1.5 million transactions and insights from hundreds of millions of visitors across our brands, we've accumulated a rich reservoir of anonymized data and insights. This allows us to make informed decisions, tailor experiences and predict trends with unparalleled accuracy, all while respecting the privacy of every user."
Lyotier said that the goal is to eventually create a "Web of One."
"The Web of One is what we call a truly personalized experience in which every touch point of travel creates a more personalized, intimate experience and better memories for the traveler," he said.