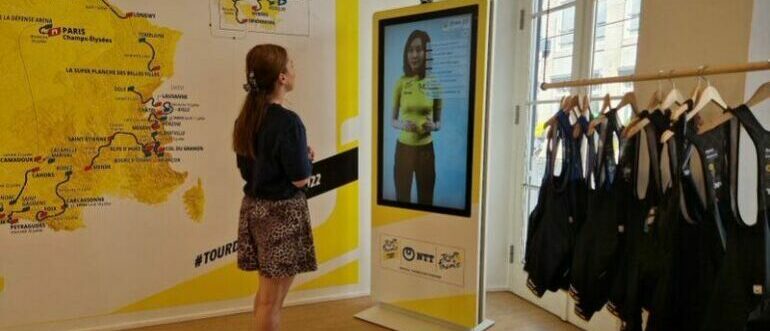 While the faces of the Tour de France are star cyclists like Jonas Vingegaard, Tadej Pogacar and Neilson Powless, many followers of the legendary race may be equally intrigued by a new AI digital-human Tour de France personality called Marianne that uses ChatGPT to update fans with the latest race information. Marianne can even project a winner, but she may change her mind as often as race data is updated. The 110th Tour de France runs from July 1-23, 2023.
Marianne is the creation of NTT, the Tour's long-time IT technical partner, and is named for Marianne Martin, the first woman to enter the Tour de France Feminin in 1984. On-site fans can query Marianne about the race in real time, venues, and teams as well as keep tabs on race stages spanning multiple countries. Marianne is actually a manifestation of several technologies all being used at once: Machine learning, speech recognition, natural language processing and conversational artificial intelligence. The integration of ChatGPT for the first time this year is the new wrinkle.
Marianne "is trained on previous coded race information and leverages ChatGPT to provide a unique user experience for responses that have not been pre-coded," explains Joan Kuhrmann, director of program management at NTT. "What's exciting about Marianne is her ability to leverage real-time data through NTT's data analytics platform to answer real-time, race-related questions. For example, she can access data around the current stage, the kilometers remaining to the finish line, speed and weather data, etc.  She can also give an explanation of the route, answer who is currently leading the stage, if and when there is likely to be some action in the peloton and more."
Sport often is a testbed for technology, and NTT sees AI digital-human screen interaction akin to Marianne expanding over time to the point where Marianne may need to tell fans, "One at a time, please!" Future versions will likely include navigational information for mobile use. The Amaury Sport Organization that manages the Tour de France specializes in "non-stadia" events that include sailing, motor sports, marathon running and golf.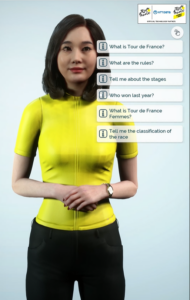 Marianne is the beneficiary of a "digital twin" program that has been underway for a number of years but it is becoming increasingly sophisticated. The idea is to create "the largest connected stadium" wherein the digital twin is layers of data that replicates the race in real-time. The bicycles are the key data gatherers. Tiny sensors clipped under each rider's saddle radio a steady stream of location, speed data weather and time gap data to motorcycles and planes monitoring the race. That information is then sent via a microwave signal to a "truck-based, edge-computing device" parked at the finish of each stage of the race. All this happens in milliseconds. Every bicycle has a digital twin in what can be described as a marriage between the Internet of Things (IoT) and edge computing technology.
The gathered data is used to develop visualizations and predictive analytics for broadcasters, social media and the Tour de France's own website and app. Broadcasters, for example, can quickly update their "catch predictor" which analyzes whether breakaway riders can be caught by the rest of the peloton. Individual race teams have access to the same data. Marianne, meanwhile, is available to VIP guests at this year's race at a kiosk in NTT's tech truck in the tech zone. The digital twin concept also will be used for the women's Tour de France Femmes avec Zwift. Marianne will be on hand to answer your questions. She'll be wearing the yellow jersey that signifies a winner.