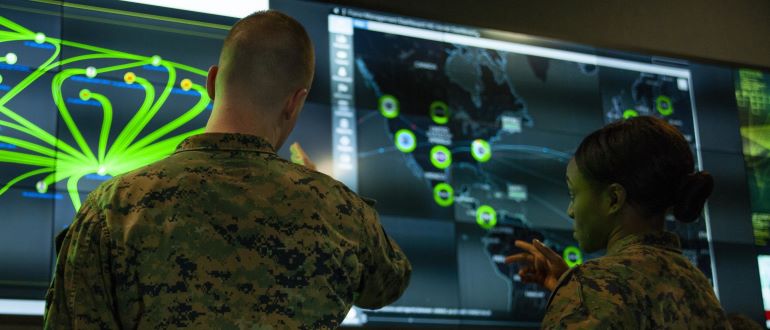 The convergence of artificial intelligence and defense systems has sparked a global spending increase among developed nations, to create autonomous weaponry, battlefield analytics systems and other AI tools. Revenue in the sector is estimated to grow to $13.1 billion in 2028, up from $6.9 billion in 2022, according to a recent report by The Insight Partners, an industry research firm.
"The adoption of artificial intelligence technology is anticipated to revolutionize the defense landscape globally," the report asserts. "North America is focused on strengthening its defense sector by increasing its military spending and incorporating advanced technologies in its defense systems to gain a competitive advantage in warfare."
The U.S. military is asking for $1.8 billion for AI, as part of its fiscal year 2024 budget request. U.S. Deputy Secretary of Defense Kathleen H. Hicks said during a press conference at the Pentagon on Nov. 2, 2023, that the U.S. does not seek an arms race with any country, including the People's Republic of China. "With AI and all our capabilities, we seek only to deter aggression and defend our country, our allies and partners, and our interests."
Estimates for what China spends varies widely, as some government research firms say they spend about the same as the U.S., and others saying it far exceeds that amount. In an interview with Techstrong.ai, Mr. William C. Hannas, the lead analyst at Georgetown's Center for Security and Emerging Technology, and a former member of the Senior Intelligence Service at the CIA, said comparing dollars with China is misleading, as the cost of labor in that country is dramatically different and there is room for exaggeration or outright false information. What is important, he said, is to monitor their activities in that sphere, to get a better sense of what is happening.
"We absolutely insist, that our government and our allied governments take a much more proactive stance towards monitoring what is happening in China, with AI and other high-tech technologies." He said the U.S. should scour open sourced information, looking at what they are saying, publishing, and patenting, or claiming to do, to get a clearer picture, rather than trying to nail down what they are spending. Mr. Hannas, known for his candor, added, "We are definitely too full of ourselves, and will be surprised if we don't do a better job than what we are doing. For so many years, it did not matter because we were so far ahead. We owe it to the U.S. taxpayer to monitor what is happening in the world of technology."
The Russians, South Koreans, Japanese and German governments are also spending millions if not billions on integrating AI into their defense capabilities, but the U.S., the United Kingdom, and China are far and away the major players, Mr. Hannas said.
In the U.S., funding has increased dramatically since the Joint Artificial Intelligence Center was created in 2018, to coordinate department-wide efforts. In 2021, the Defense Department catalogued at least 685 ongoing AI projects. During a press conference on Sept. 10, 2021, the center's leadership spoke with reporters about several major projects, among them equipping drones with autonomous tracking capabilities.
The Deputy Secretary added, "Of course, increasingly over the last dozen years, advances in machine learning have heralded and accelerated new generations of AI breakthroughs, with much of the innovation happening outside DoD and government. And so, our task in DoD is to adopt these innovations wherever they can add the most military value."
Deputy Secretary Hicks called on all countries to commit to responsible norms of military use of AI. "And we will continue to ensure our own actions clearly live up to that commitment: from here at the Pentagon and across all our commands and bases world-wide, to the flotilla of uncrewed ships that recently steamed across the entire Pacific, to the thousands of all-domain attributable autonomous systems we aim to field in the next two years through DoD's recently-announced Replicator initiative."
She was referring to four unmanned U.S. Navy ships, prototype Unmanned Surface Vehicles (USVs), that sailed in September from Southern California to Yokosuka, Japan, where the U.S. 7th Fleet is located. The Replicator initiative, including all-domain attributable autonomous systems (ADA2), include self-piloting ships and uncrewed aircraft, according to the Department of Defense.
"Imagine distributed pods of self-propelled ADA2 systems afloat, powered by the sun and other virtually-limitless resources, packed with sensors aplenty, enough to give us new, reliable sources of information in near-real-time," Deputy Secretary Hicks said. There could also be ground based ADA2 systems designed to provide logistics support to keep troops safe, and even space-based ADA2 systems performing similar functions.
It has been reported that Ukrainian troops have been using AI systems synchronized with drones to develop battlefield strategy, but the extent of the capacity of such systems, and what advantage, if any, it has given Ukrainian troops over Russian troops, is not clear.