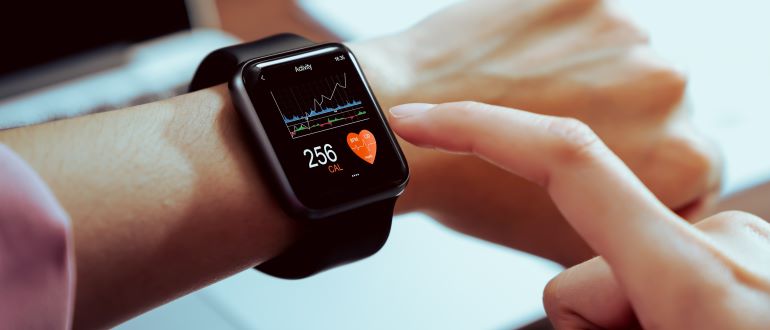 The impact that artificial intelligence (AI) can have on healthcare is rapidly coming to light in a number of ways. Take, for example, AI powered wearables.
Wearables powered by AI are becoming more sophisticated with the info they draw from the body, and leveraging systems' biology can supercharge the number of biometrics produced via a one-millimeter exposure to the body. These physiological biometrics recorded by wearable devices can provide health indicators more strongly correlated with biological age than chronological age, according to a LifeQ study published in bioRxiv.
The report reveals clear associations between wearable-derived behavioral and physiological features and the methylation of specific genes in pathways relating to the aging process. These associations uncover new opportunities for AI powered wearables to positively impact how one ages. The study demonstrated linkages between lifestyle and behavioral factors and genetic pathways that make health last.
"Intuitively, people know if you exercise and eat well, you should age well," Laurie Olivier, CEO of LifeQ, explains. "But the fact is it hasn't been demonstrated at a precision level and on a scientific level. The molecular aging pathways have not been linked to specific lifestyle actions —until now."
She explains getting the required specificity to manage things in real-time during the day can be valuable, and this is where wearables become powerful as longitudinal instruments that can track multiple behaviors in parallel.
"It's not just about collecting data; it's about connecting the dots between different lifestyle actions and chronic issues like stress or sleep, and so much more," she explains. "Wearables give us a powerful, immediate feedback loop and the ability to generate personalized action plans."
Dexter Ang co-founder and executive chairman Pison, points out as more people wear devices that are recording health data, large pools of health data are created showing each person's current condition and how that condition is changing over time.
"Scientists at research hospitals, digital health companies, and pharmaceutical companies are using this data to better understand all aspects of health and aging," he explains.
He says wearables are the source of invaluable data for many health and wellness studies, such as Alzheimer's Disease, Parkinson's Disease, ALS, heart disease and general cognitive health.
The data from wearables can be even more valuable when it is combined with data from other sources, such as data from other monitoring systems or sensors and person-reported data such as how they are feeling, when they took medications, and what they ate.
"With each new data source, we can put together a fuller, more objective picture of the person and the factors that are influencing their health and how they are aging," Ang says.
Olivier notes wearables have the potential to monumentally impact how we understand aging and ways to impact acceleration or deacceleration of aging.
"It is a whole new world not yet fully realized," she says. " When it comes to human behavior and lifestyle, that's where wearables come in handy. They can help us scientifically connect the dots between behavior and aging progression at the level of DNA."
She adds one of the big problems today is that many aging studies are driven by solutions that are pharmaceutical and nutraceutical in nature.
"In contrast, we are looking at lifestyle and behavioral adaptations towards reducing and eliminating age-related diseases and to positively impact aging pathways," Olivier says. "It's an exciting time to be in the world of wearables, as there are opportunities to positively impact how people age."
Ang notes wearables can positively impact how people age in a variety of ways, including early detection of diseases or even warning signs that could lead to disease.
"Through early detection, you can take preventative action that will prevent or slow disease progression which could dramatically impact quality of life," he says.
The AI technology in wearables can also monitor the current state of a person, and through alerts and notifications, help people modify their behavior in positive ways or remind them to stay on track. Examples of this would include reminding a person to take important medicines, encouraging exercise, providing nutritional tips and alerting a person that their performance is falling off and suggesting they take a nap or follow a process to recharge their minds or bodies.
"There are numerous ways to measure biological age and they vary in the parameters that they take into account," Ang says.
Olivier adds the medical and physiological intelligence behind the sensors can make a huge difference.
"By adding additional sensors, such as electrodermal sensors with the ability to measure the moisture and chemical layers on top of the skin, and an ECG capability, we can uncover a wealth of additional information from a simple wearable device," she says.